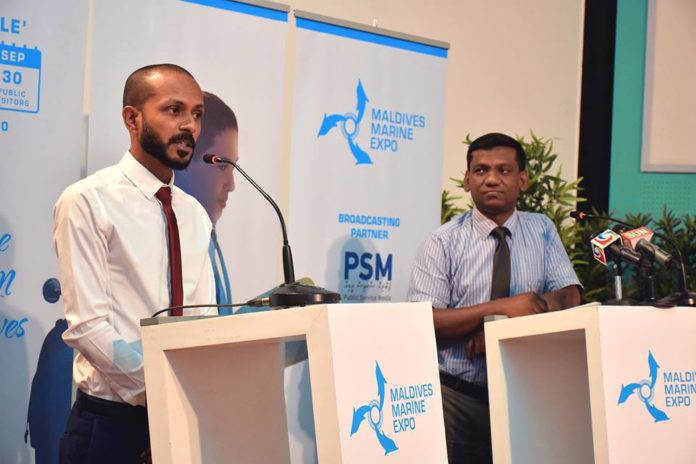 Agreements have been signed with the hosting and broadcasting partners for the third edition of the Maldives Marine Expo organized by the Liveaboard Association of Maldives.
Public Service Media (PSM) was assigned as the broadcasting partner of the expo while the Housing Development Corporation (HDC) was appointed as the hosting partner. The event will be organized by the event organizing company Blak Pvt. Ltd.
At the signing ceremony held at Voice of Maldives, the COO of PSM, Mohamed Saeed signed on behalf of PSM and the Finance Director of HDC, Ali Shareef represented his company on the agreement with Blak Pvt. Ltd. with the Managing Director of the event organizer, Ismail Husham.
Speaking at the ceremony, Husham said that as the Marine Expo grows annually and getting the best broadcaster in the country to provide information on the expo as a partner is a great joy.
A number of activities are planned for the Marine Expo that would be held from 27 – 30 September this year. It includes the "Marine Talks" with lectures from the specialists in the sector, a water sports competition and an art exhibition along with an award ceremony for the exhibitors.
The expo is set to be held at Hulhumalé. The Finance Director of HDC said today that the expo would be held at the waterfront in the Radisson Blu Hotel area being built by STO.  Blak said that a 10,000 squre meter of land would be used for the in event from Hulhumalé.
The main sponsor of the Maldives Marine Expo 2016 is MTCC. And the co-sponsor is Marine Equipments.