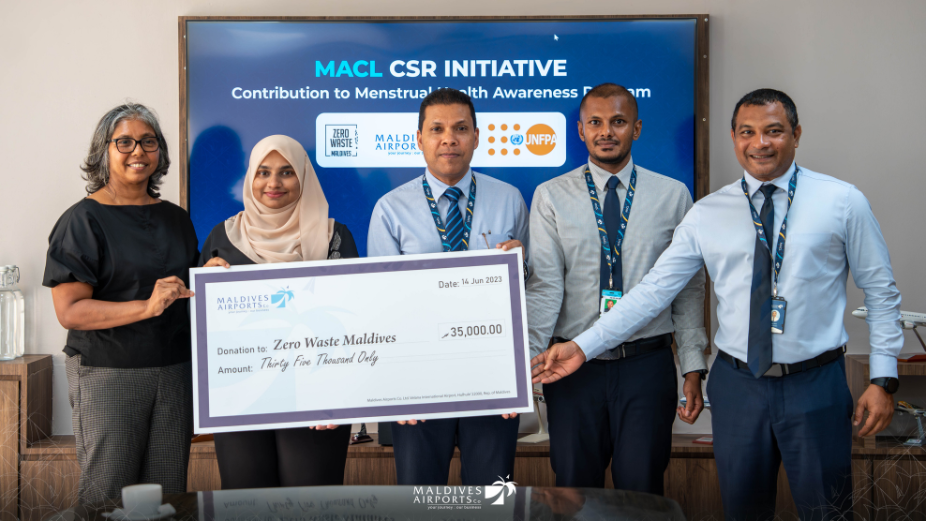 The Maldives Airports Company Limited (MACL) has announced its contribution to the Menstrual Health Awareness Program. This program is led by Zero Waste Maldives in partnership with the United Nations Population Fund (UNFPA).
The Menstrual Health Awareness Program aims to empower women and girls in the local islands, promote sustainable behaviours, and support a climate-friendly menstrual health management system. These goals align closely with national strategic priorities to phase out single-use plastics by 2023 and further women's empowerment.
A ceremony was held at the MACL Corporate Office where the donation cheque was handed over to representatives of Zero Waste Maldives and the UNFPA. Deputy Managing Director of MACL, Mr Ibrahim Thoha, represented the company and handed the cheque to Mariyam Hamsha Hussain, Co-Founder of Zero Waste Maldives, in the presence of Shadiya Ibrahim, Head of Office, UNFPA Maldives.
In his remarks, Mr Thoha emphasized the importance of the project: "We are committed to contributing to national development through NGOs and international organizations. This particular project is significant for women's health and contributes to environmental sustainability, aligning with MACL's long-term vision."
This donation falls under MACL's Corporate Social Responsibility (CSR) initiatives, as the company continues to support young women in local islands and contributes to the national strategic priority of phasing out single-use plastics. These actions reflect MACL's commitment to environmentally sustainable operations and safeguarding the environment. The project has already had significant reach, impacting over 45,000+ people through various community awareness activities. To date, the program has distributed over 700+ menstrual cups and reusable pads across 20 Atolls and conducted more than 31 sessions both physically and virtually. These efforts have contributed to avoiding over 1.1 tons of menstrual waste annually.