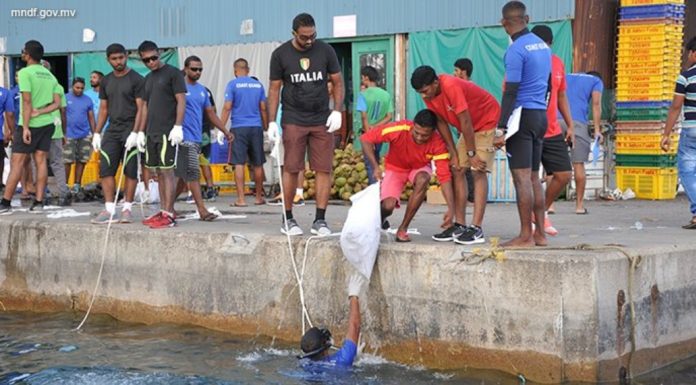 On the occasion of the "International Coastal Cleanup Day", Maldives celebrates by conducting a project to clean all the islands and resorts.
The Coastal Cleanup day by the Ocean Conservancy, is an organization that works to help protect the ocean from the challenges it faces every year. They serve as a voice of the ocean by making ocean trash-free. Anyone can contribute to the Coastal Cleanup day simply by taking a day at the beach and carrying the garbage to reduce the amount of garbage that gets in to the ocean.
The coastal cleanup day of Maldives was inaugurated by the Minister of State for Environment and Energy, Abdulla Ziyad, in Hulhumale'. This 1-week project was organized by the Ministry of Environment and the Environmental Protection Agency (EPA). EPA stated that one of the main aim of organizing such an event is to contribute to this day by cleaning the beach, lagoon and sea and to make the public aware of the importance of such tasks.
Government organizations, Hulhumale' Development Corporation, Maldives Red Crescent, Maldives Inland Revenue Authority (MIRA), M.N.D.F, Schools and various Associations took part in this event where the lagoon of Male' will be cleaned by M.N.D.F and Maldives Police Service and the beach and edge of Vilimale' by 'Save the Beach'.
According to EPA, this year's event which commenced today was organized in collaboration with  atoll councils, city council, island councils, government organizations, schools, associations and individuals. Moreover, public awareness programs on the importance of saving the ocean will be conducted between 17th to 20th of this month.
Coastal Cleanup day is an opportunity for individuals and societies to make a difference and help others do the same to save the ocean.