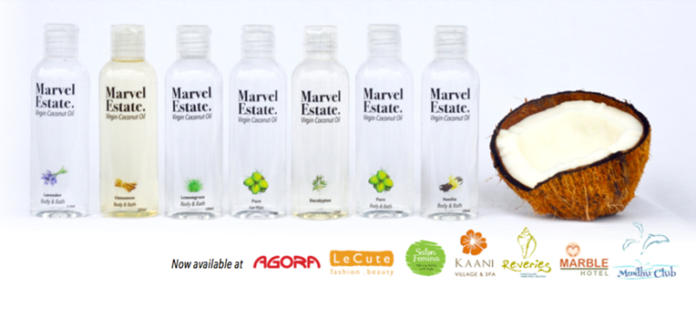 Although based in Sri Lanka, Marvel Estate; a subsidiary of Hakatha International Pvt Ltd is a business owned and operated a 100% by a Maldivian family. Marvel estate provides its client base Virgin Coconut Oil, infused with different essences to appeal to a broader user base.
Coconut oil has been trusted for its wide range of uses and different medical properties for thousands of years. And it is with the utter most care that Marvel Estate delivers their product to their customers from the harvesting of the coconuts from their offshore estate in Kansadulwa, Sri Lanka, to the final product delivered to the shelves of retailers. For the extraction of the oils they use a technique called 'cold press method' for the extraction of the oils from the coconut with great care taken to not expose it to any sort of heat during the process. This ensures that the enzymes, vitamins and nutrients within the oils are of the highest quantity and quality.
Marvel Estate Virgin Coconut Oil has different "flavors" with different infusions of essences. They include a roster of Lavender, Eucalyptus, Lemongrass, Cinnamon and Vanilla, that provides essential and basic beauty needs. To a user regardless of skin type, it can treat damaged hair, dandruff issues, act as a skin moisturizer and facial cleanser as well.
All in all, since the launch of their product, Marvel Estate has become critically acclaimed and is loved by users. To try this product out for yourself visit www.marvel.estate for more information and orders. Truly a Maldivian product that Maldivians can relate to.