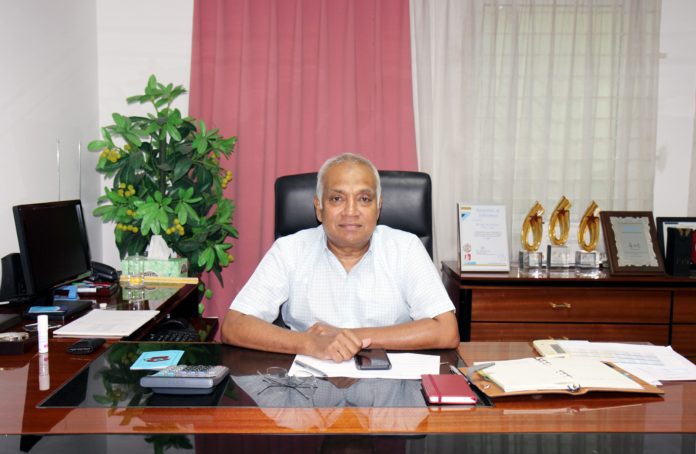 Mr. Mohamed Thowfeequ is the Executive Director and one of the two founding brothers of 'Bright Brothers Private Limited', a highly successful and dynamic company which specializes in providing a well-integrated range of air-conditioning services and mass-market consumer products. Founded in 1984 and initially operated out of a back room of their house, Bright Brothers' history has been one of consistent and successful growth.
How did you begin your career?
I am, by profession, a marine engineer, having studied at the World Maritime University. I was among the second batch of O'level students in the Maldives. After finishing school, I took up the sailing life, as an engineer (training) and eventually worked my way up to Chief Engineer. I returned to Maldives after the birth of my first child. During this time, my brother Samad had been trained in Singapore in Refrigeration and Air-conditioning on a scholarship and became the Ref Engineer in the company now known as MIFCO.
The beginning of Bright Brothers was just my brother and I deciding to do some extra work; we gathered some tools at home and started working. During that time, there was almost no air-conditioning work to be done, most of our work revolved around refrigeration. We didn't have a workshop as such, so we would take fridges and freezers into our living room to work on them. We both had regular jobs, I myself was employed at the Ministry of Transport. So, it was just the both of us, doing odd jobs after our regular jobs were done.
To be frank, I didn't know anything about air-conditioning in the beginning, but as a person with a technical background, it was easy for me to grasp the concepts from my brother. We kept working this way, and our business grew until we realized that we needed more help, so we recruited a ref mechanic full-time so we can be operational in the morning too.
Our first shop was opened in STO Trade Center in 1995, called 'Bright Brother Showcase' retailing air-conditioner and refrigeration spare parts. Getting spares was a big problem at that time, so it was actually helpful for the rest of the people getting into this business as well.
We expanded and grew, eventually moving onto appliances and then to home improvement goods. Currently, we have 3 Agora outlets, the Bright Brothers Showcase on Fareedhee Magu, refrigerator service center in Male' and Hulhumale' and Argo (Kudahuvadhoo Ice Plant) to name some. We have delved into several industries throughout the years and I am happy to say we have been very successful.
What are some significant challenges you have faced?
I have always believed that encountering challenges just means you have to work harder.
My brother and I were fairly young when we began this company. We were the pioneers of locally made deep freezers, and we even constructed display chillers. We also crafted walk-in containers and outdoor units for ACs. There was a high demand for these items but we were unable to continue as all the work was being done manually. We were hindered by a lack of expansion in the market because it wasn't worth it to craft all these items for export. So currently, we import all these goods rather than produce them locally.
Regarding competition, when we went into refrigeration and air-conditioning there was little to no competition. But when we began the supermarket business, there were a lot of big players already established in the industry. But today, I am happy to say that Agora has also become a key player in this industry.
The most significant problem that we have faced is that of staff. Retaining staff is sometimes a difficulty, as sometimes we may train staff and then they may lose interest or move on. We have several programs that we conduct to keep our staff happy and to retain our staff but it has been a noticeable hurdle.
What are your greatest achievements, both personally and for your company?
For notable successes, I will put my staff at number 1. My staff's loyalty and dedication to the company is my greatest success and achievement. They are what makes our company stand out.
We have also won several awards from different exhibitions, and apart from that, my brother and I are Presidential Award winners for industrial development.
I consider every venture an achievement. But I would still insist on putting my staff first because throughout the 3 decades that we have been in operation, I have some staff who have been with me for almost 20 to 25 years. We would not be where we are without them. Our staff are attentive to our businesses, we have senior employees who can take care of the business even if my brother and I are away for long amounts of time. This fills me with pride, having produced staff who are so hardworking and so loyal to the company.
What are your plans for the future?
Our next venture is an ice-cream/coffee shop. As the authorized distributor of Baskin Robbins ice-cream, we decided to open up an actual café where people can enjoy the ice-cream along with coffee and other little snacks. When finished, the café will be a three-storeys with a capacity to serve up to 100 patrons at the same time.
Our vision for this café is to be a place that is targeted towards everyone rather than a specific niche market. I would like everyone to feel welcome, whether they are coming to have ice-cream, or whether to have evening tea after work or with friends, or even with family.
What would be your advice to young entrepreneurs and the younger generation?
If you make a commitment to something, then you must stick by it. If you make promises to clients, or to staff, to anyone, then you must make sure to go through with it. Your word needs to have some conviction to it.
Another piece of advice I would like to impart is to be punctual and to work. Take pride in being reliable. Love what you do, and do it well.