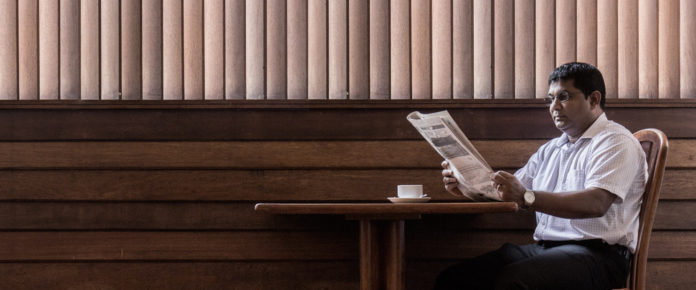 Catering, the business of providing food services to remote sites is now a huge, booming industry in Maldives but it didn't use to be so. Even a decade back there were only a few companies that provided catering services in the country. Amir, more popularly known as Salsa Amir, is among the most well-known restaurateurs in the country and a pioneer who introduced a more modern style of catering service to the Maldives. Eat magazine sat down with Amir to have a chat about his experiences.
Tell us how you got started in this business.
My first real experience with managing a restaurant was with Blue Ice Cafeteria in Ekuveni during 1996. That was my first business venture and I managed it for five years with the help of two other sleeping partners. I was doing relatively alright with Blue Ice Cafeteria when I got the chance to manage the Beach Rest Restaurant in Hulhule'. I ran Beach Rest for five years too before I went and ahead and founded Salsa in 2002. I should note that I let Blue Ice Cafeteria go while I was operating Beach Rest. All these operations sort of overlapped each other on a timeline, things happening while I was in the middle of other things.
However, before all that, I worked for six years in the F&B Department at Nasandhura Palace Hotel starting in 1991. That was when my interest in this really began. By the time I quit Nasandhura, I was the Banquet Manager. I started as a waiter and worked my way up to Restaurant Supervisor and F&B Manager positions through hard work. I should mention that I had previous experiences working in F&B at Hembadhoo resort in 1989 and Thulhaagiri resort in 1990, but it was the experience I got at Nasandhura that defined me. Nasandhura was the best hotel in the country at the time and I got to attend to all kinds of people from all over the world, including world leaders and other government guests during my service there.
However, even back then I knew that I would one day want to start my own thing so I decided to leave. It took me a while but I found a suitable replacement for me at Nasandhura and left. Six months after leaving Nasandhura, I started Blue Ice Cafeteria and it required everything I had ever learned at Nasandhura to get it up and running. It was a huge accomplishment, but when I got the chance to run Beach Rest Restaurant in Hulhule' I had to shift my focus away from Male' since this was a much bigger operation than Blue Ice would ever be. It was the only restaurant in Hulhule' so all the staff and a huge number of travelers would go there for all their meals. Later, in 2002, I decided that I needed to start another operation in Male so began I joined up with some new partners and Salsa Cafe came into existence. One year later, Salsa Royal followed.
How did you decide on the name, Salsa?
I did a lot of research before settling on Salsa. First I found a lot of suitable names I liked on the Internet and then shortlisted it. Salsa stood out even among the shortlisted names for several reasons. First, it was linked to food and very easy to say. Secondly, when we were young there was a movie called Salsa Heat that was really popular in the country. So it just clicked with me. Salsa is basically a salad or a sauce, or even a hot sauce and mix of things. It's found in several recipes. A lot of people criticized the name back then saying that was the kind of name you'd give to a dance club or disco, and that it didn't go well with the atmosphere in Male'. However, Salsa Cafe flourished and within a few months it became clear it was a hit. I could say that the success of Salsa Cafe was largely due to the location, even though a lot of people were on the opinion that the location was really bad for a cafe since it was down a small low-traffic road. I saw the it as an advantage though, since it was directly linked to one of the main roads, close to the main shopping area in Male' and near to several tourist attractions. When I first opened Salsa, the place could seat 72 customers. It had a huge open air area with some beautiful trees. It was a very refreshing atmosphere and customers loved it. One year later I got the chance to start a new restaurant at a location where there already was a famous restaurant called Twin Peaks. The place was popular for its Italian food but a bit run down so I took over, did a little bit of redecorating and opened it under the name Salsa Royal. I kept the Italian chef they had and added Thai food to the menu since it was gaining popularity in the country at the time. The fusion of Thai and Italian was very well received. Next, I bought another restaurant on Ameenee Magu and renamed it "205 Salsa". The name comes from the block the restaurant was located in, in case you're wondering about the strange name. Salsa Catering was also began during that time.
What do you think is Salsa's biggest contribution to the industry?
There were only a few other places in the country that offered catering services at the time when I started Salsa, but it won't be wrong to say that Salsa did in fact revolutionize the catering industry in the country. We introduced modern catering to the country. At the time most places would just offer local short eats and drinks as catering service. We introduced pastries and finger foods, and even designed and decorated seats and tables and the locations. I think we were the first to start having live stations as part of the catering service too. We changed the entire face of catering in Maldives, bringing a completely new style with our elegant presentations and concepts. That's probably why we're the first choice when anyone is looking for a caterer that can do huge corporate events and award ceremonies.
What was the largest event you have catered to so far?
If you consider the amount of people we catered to it was definitely the family trip organized by the Airports Company and held in Bandos Tourist Resort. We had to cater to about 2500 people for a full day. Morning breakfast, brunch, lunch and afternoon tea, we did it all. Everyone there that day were fed by our team. No one had to be turned back because there wasn't enough food. It wasn't easy since it was held out of Male' too. The logistics behind it had to be planned out to every single minor detail to ensure there would be no complications. It was a huge challenge but we managed to do it smoothly and very effectively. There were many other unique events we catered to as well, including three or four course meals at events and gala nights. I don't think any other place has done anything like that. It's one of the biggest challenges we have faced since we started the catering business. Everything has to be done on time. Dishes have to served and taken away with precision timing so it takes a lot of intricate choreographing to get it right.
What's the future of Salsa going to be like?
We have to broaden our horizons definitely. We can't just rest on our laurels so we're looking to expand into other things as well. The guesthouse industry is one of the a fastest growing industries in the country now so we're looking to target that. We have evolve with the times, and Salsa will change to stay on top of things.
Salsa already serves Italian and Thai cuisines. Are you planning to add any other flavors to your menu soon?
Thai, Indian, Italian and Maldivian cuisine; that's what the Salsa chefs specialize in at the moment. We might consider Arabian and Mediterranean tastes too. That's a very likely possibility in the near future. Indian cuisine is going through a kind of renaissance right now, and it's becoming increasingly popular all over the world. Indian foods have always been very popular in the Maldives so we're going to focus on that a bit more as well in the future. Also, we're looking to open restaurants in islands other than Male' that have high potential, such as Kuludhuffushi, Thinadhoo, Dharavandhoo, Fuvah Mulah and Addu, just to name a few. The challenge is, as always, finding reliable and talented staff. A lot of the time we have to look for foreign talent. Not to say there aren't talented chefs in Maldives. There are a lot of award-winning local talent working in the resort industry but it's next to impossible to lure them away from their jobs since we can't compete with the resorts when it comes to wages.
What do you think is the secret of Salsa's success?
There are a few things that I've learned over the years. The first is that you have pay careful attention to everything. You need to micromanage things. You need to know everything that's happening under you. You need to personally handle a lot of things at first and continue doing so to some extent even after you've become a success story. The personal touch and close attention to details from every angle, that's what a growing business needs to ensure its a success. Quality control and kitchen cleanliness is paramount. And you have to always scrutinize every aspect of the entire organization, finding weaknesses and patching them before they become a problem. You can't begin something and hope that it will all turn out alright, you need to work hard and keep on improving and enhancing if you want to achieve something. It doesn't matter how big your restaurant is or how popular it has become, if you don't pay enough attention and take care of it lovingly it's going to fail. There will come a time when you can relax a bit and let things take on a life of its own, but you can never just put it to Full Auto. Semi-auto, maybe but never Full Auto. There always has to be a human element behind every operation, observing to ensure everything is working as it should.