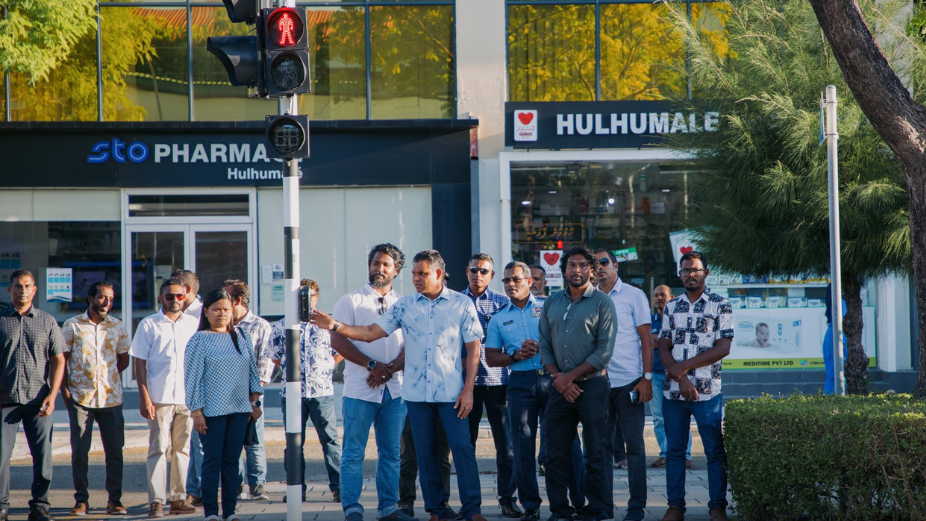 In a significant effort to enhance pedestrian safety and convenience, Urbanco has recently installed street crossing lights in several areas of Hulhumale'. The inauguration ceremony for these traffic lights was presided over by H.E. Vice President Faisal Naseem.
Recognizing the need for improved safety measures, Urbanco has undertaken this initiative to ensure the well-being of residents in Hulhumale'. By installing traffic lights specifically designed for street crossings, the company aims to facilitate safer and more convenient pedestrian movement within the city.
The newly installed street crossing lights can be found in eight key locations throughout Hulhumale'. Urbanco has conducted thorough research to identify the busiest crosswalks in the area and plans to continue expanding the installation of pedestrian lights to meet the needs of the growing community.
Among the initial areas where street crossing signs have been deployed are near Hulhumale' Hospital and the Hiyaa residential area. These strategically chosen spots are expected to provide considerable assistance to pedestrians, particularly during peak traffic hours.
Explaining the functionality of the street crossing lights, Urbanco stated, "Residents can press the button on the street lights to indicate their intention to cross. The light will turn green for a designated period, allowing people to safely navigate the streets."
The introduction of these pedestrian lights comes as part of Urbanco's ongoing commitment to promoting urban development and prioritizing safety in Hulhumale'. By implementing this innovative solution, the company aims to alleviate concerns related to street crossing and foster a more secure environment for all residents and visitors alike.