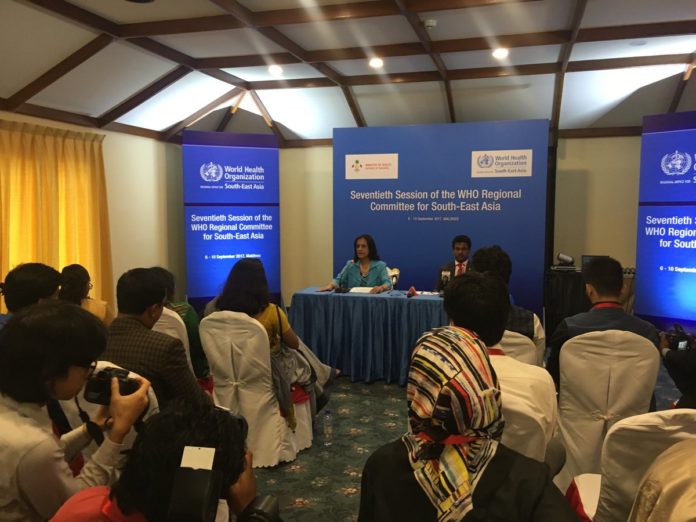 The 70th Regional Committee Session of World Health Organization (WHO) South-East Asia Region and the annual governing body meeting of WHO in the region has commenced yesterday in Maldives. This 5-day session is being held at Paradise Island Resort.
Officials from Maldives that took part in this meeting include the Minister of Health, Abdulla Nazim and Minister of Fisheries and Agriculture, Dr. Mohamed Shainee where Minister Nazim will be the head in-charge representing Maldives.
WHO Goodwill Ambassador for Hepatitis of this region, Mr. Amitabh Bachchan was scheduled to join the meeting to advocate for urgent action against viral hepatitis; however, his trip to Maldives got cancelled today due to health reasons.
WHO annually organizes this meeting primarily to discuss on to improve primary health care and the health workforce and escalate towards universal health coverage. This year's meeting will address on issues like building health systems resilient to climate change, improving access to essential medicines for all and intensifying efforts to end tuberculosis among the health ministers of South-East Asia Region which is the home to almost a quarter of the world population.
The ministers will also emphasize on accelerating efforts to end tuberculosis (TB) by 2030 as this region bears 45% of the global TB burden.
One of the challenges that countries are facing is the growing need to change the region's health system by providing access to quality essential medicines for all at an affordable price. In order to resolve this challenge, Ministers will discuss on ways to strengthen inter-country cooperation in areas such as medicine procurement and pricing and regulation of medical products.
In addition to these, this meeting will focus on reflecting on ways to control and minimize road traffic injuries which causes over 316,000 deaths in the region each year.