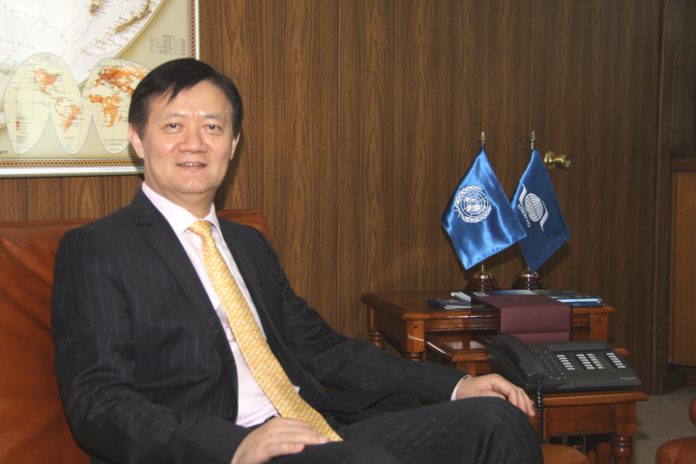 Mr. Xu Jing, Regional Director for Asia & the Pacific of World Tourism Organization (UNWTO) has acknowledged the importance of Guesthouses Maldives Conference & support for the event to be held next month. UNWTO is the United Nations agency responsible for the promotion of responsible, sustainable and universally accessible tourism.
"It is my great pleasure to congratulate the Maldives on the organization of this first "Guest House Conference". The Maldives has a reputation for luxury hotels and high-end visitors but little is known of its capacity to cater to the rapidly growing FITs sustained by the social media that includes the emerging consumer class and millennial travelers who today constitute the bulk of the emerging market especially from Asia. However, this would not be possible without the reciprocal accommodation facilities that the guest houses supply. In this respect the guest houses also provide an excellent service in community development that is keeping with the sustainable development goals (SDGs) of the United Nations. Incidentally 2017 has been declared the International Year of Sustainable Tourism for Development and UNWTO takes pride in the efforts of the Maldives in the organization of this landmark conference to which I wish you all the success in your deliberations." Mr. Xu Jing, UNWTO's Regional Director for Asia and the Pacific noted in the letter sent to Guesthouses Maldives.
Xu Jing began his career in tourism at the China National Tourism Administration where he was in charge of the international relations division. He joined the World Tourism Organization (UNWTO) in 1992 as Officer to the Regional Representation for Asia and the Pacific. Over the years, he coordinated and supervised numerous UNWTO technical cooperation projects and sectorial support missions on subjects of contemporary interest to the tourism community of Asian countries. He is currently UNWTO's Regional Director for Asia and the Pacific – a position he has occupied since the end of 2003. In addition to his regional responsibilities, as of January 2014, he has been appointed, UNWTO's Executive Secretary of the General Assembly and the Executive Council.
In addition to the above, Xu Jing holds honorary academic positions in a number of universities, in some of which he has lectured on tourism issues of international and regional significance. These include Chinese University of Hong Kong, University of Suzhou, Sun Yat-sen University, Shanghai Institute of Tourism, Hainan University and Hong Kong Polytechnic University, Kyunghee University (Republic of Korea) and University of Balearic Islands (Spain). He is also a senior advisor to the Chinese Municipalities of Guilin and Huangshan