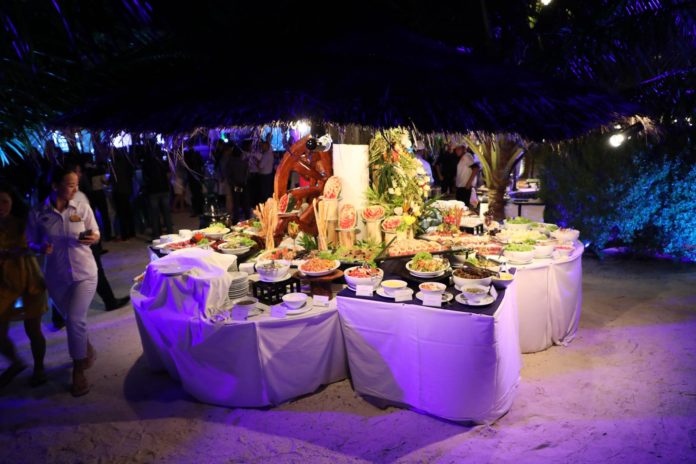 As the first ever Travel Trade Maldives (TTM) 2017 approached its closing hours, Adaaran Select Hudhuranfushi welcomed the entire contingent onto the beautiful island.  Hudhuranfushi is blessed with thriving vegetation and pristine waters, the island of white gold finds itself in peaceful seclusion in the North Male' Atoll. Set in 83 acres of lush tropical beach property, the resort's design enables it to blend into its surroundings being one of the best resorts in the Maldives.
Adaaran is no stranger to events, having hosted plenty of major events on the Island. Hudhuranfushi remains extremely proud of hosting the gala night of the first ever TTM.  Upon arrival onto the island, guests were greeted with Bodu Beru, a local form of dance and music. Photo backdrops were installed for the perfect picture moment.  A white sandy path way led guests onto the newly developed beach area specifically for events of such scale. Light snacks and welcome drinks were provided immediately. Guests were given some time to exchange a few words before being invited to a massive buffet that included cuisines from Mexico, Japan, Indonesia, Italy, India, Chinese to name a few. Over 300 people including foreign operators and exhibitors took part in this massive celebration. Soft music was played through out the night with free flow of drinks.
Mr K. Pushpabandu, Food & Beverage Manager spoke exclusively to Corporate Maldives "We hosted 330 people for the Gala. We did our very best and it was a fantastic setting".
MATATO put up the final touches to the glamorous gala night by giving out Maldives travel awards 2017 as part of the gala night. 10 successful pioneers and long serving individuals were recognised as part of the Maldives Travel Awards Peoples edition. Adaaran staffs were on hand to help the guests with any request they might have at all times. The gala night ran till 1 am while Adaaran officials were attentively available at the departure area to say goodbye to the guests.
Mr V. Gangadaran, Assistant Manager at Hudhuranfushi commented, "We are delighted to have successfully delivered this event. As a management, we are happy to be part of this incredible initiative". Organisers Maldives Getaways thanked Adaaran Select Hudhuranfushi in hosting the gala and their constant support throughout the event.