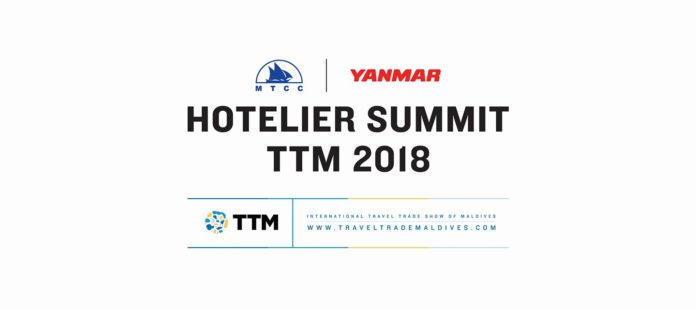 Last minute preparations are going on for the 2nd Hotelier Summit, which is set to be the kickoff event for Travel Trade Maldives 2018. As a major component of TTM that connects the travel community of Maldives, Hotelier Summit- TTM will be hosted on the 30th of April 2018 (Monday) from 9 am to 1 pm at Bandos Island Resort and Spa.
Founder and Director of Crown Company, Mr Ahmed Nazeer who also serves Secretary General of Maldives Association of Tourism Industry (MATI) will give the keynote address. Followed by the keynote would be the platinum partner speech given by Maldives Transport and Construction Company PLC, CEO Ibrahim Ziyath.
With over 150 tourism professionals confirmed to attend, confirmed attendees include resort and hotel general managers, resident managers, key hotel owners, International travel trade stakeholders and travel industry professionals. A major focus of the summit is to address where the Maldivian Tourism Industry is headed and how to think ahead.
Speaking about the event, Maldives Getaways CEO Dr Hussain Sunny Umar said that this is the largest gathering of tourism individuals in the Maldives of which stakeholders would discuss the future of tourism in the Maldives.
The event speakers include Ministry of Tourism, Ministry of Economic Development, Privatization and Corporatization Board, MMPRC and MITDC. The Summit further accompanies international delegates from Booking.com, Expedia, AirAsia, Axisrooms, TUI, Kuoni, TravHQ, LonelyPlanet, and the likes. Apart from keynote speakers, 4 discussion panels are scheduled to take place at the summit. Various topics are set to be discussed that are pertinent to the Maldivian tourism industry.
The summit offers a solution-oriented platform that facilitates face-to-face meetings, networking activities, and information exchange amongst the most elite assemblage of hotel owners and general managers.
World tourism is seeing an ever-increasing growth, while the Maldives government has plans to develop over 50 resorts before the end of 2018. A major focus of the summit is to address such matters and discuss ways in which demand would meet the ever-growing supply planned for the tourism industry of the country while looking at the future.