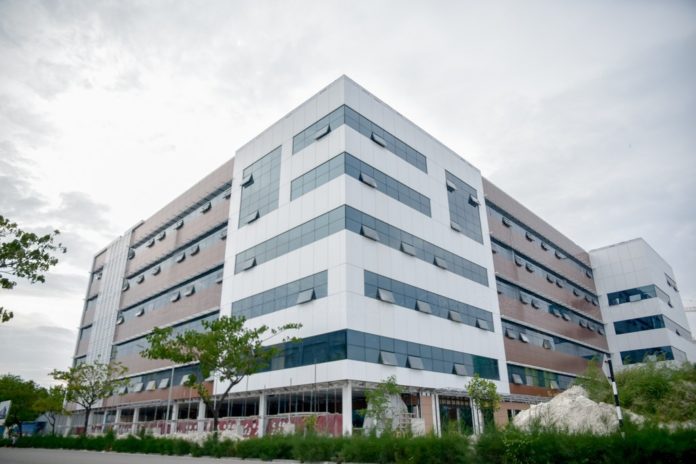 Tree Top Hospital developed in Hulhumale' by Tree Top Investments, the joint venture by Kasa Holdings Pvt Ltd, Champa Brothers, Crown Company and Kuredu Holdings have informed that the hospital will be opened for service within 2 months.
The CEO of Tree Top Hospital, Grant Muddle stated that they are currently discussing on the coverage of Aasandha and other health insurance facilities with the respected parties. Although Aasandha coverage has been confirmed, a percentage has not been finalized yet.  Moreover, they are also in the process of recruiting staffs and installing and testing machines.
Tree Top Hospital is the largest investment by a private company to develop the health industry and provide world-class medical services in the Maldives. Moreover, this 210-bed hospital is believed to be one of the best hospitals in Asia. The hospital is being constructed by a Turkish based company "Tumaks".
The development of this project worth over $80 Million is believed to transform the health industry of Maldives. Muddle stated that they strive to providing world-class health care covering as many specialized areas including cardiology, oncology – cancer care, surgery service, nephrology – kidney health, pediatrics, obstetrics and gynecology and rehabilitation medicine. Moreover, emergency facilities include trauma specialists on duty and sea ambulance operations.
According to Muddle, this hospital is developed with the aim of providing the best medical and health services to the public by being in their own country without having to travel abroad for medical purposes.
Tree top hospital will be managed by the famous Malaysian based Health Care company, Ramsay Sime Darby who currently manages famous hospitals in Malaysia, Indonesia and other Asian countries. This hospital consists of 2 buildings, a 6- story building, the main building which covers 20,000 square kilometers and an 8-story building, half the size of the main building which will house stand by generators, restaurants and accommodation.