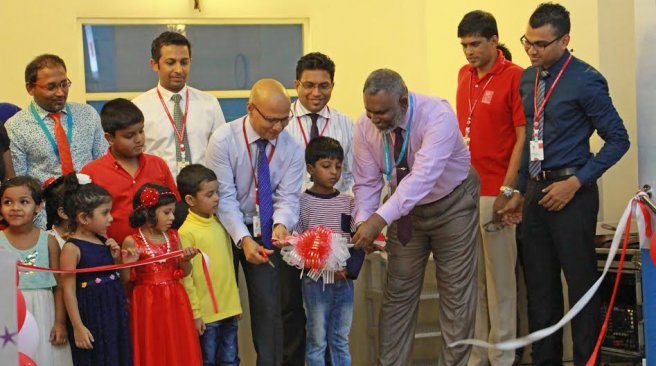 Dhiraagu has today opened a children's play area at the Maldives' largest and central hospital, Indhira Gandhi Memorial Hospital (IGMH).
The play area, located near the entrance to the OPD Counter, was officially opened at a special ceremony held today at the IGMH by CEO & MD of Dhiraagu, Mr. Ismail Rasheed and CEO of IGMH, Brigadier General (Ret.) Mr. Faruhath Shaheer.
Speaking about the play area opened by Dhiraagu under their CSR strategy, Dhiraagu Public Relations Manager Mr. Imjad Jaleel said this is a facility which would be of immense use for IGMH, mainly since many parents visit the patients at the hospital along with their children, who are easily exposed to various diseases and viruses from the hospital environment.
"The hospital needs a designated area where children could stay away from the patients while their parents visit the hospital, especially since many parents bring their kids along with them when visiting. This play area has been opened here with that in mind, and we felt that this was an essential part for IGMH at the moment. Therefore, we take this opportunity to thank IGMH's management on behalf of Dhiraagu, for extending us the opportunity to facilitate this play area.
Child Protection is a key focus area of Dhiraagu's CSR Strategy and this was one of the many initiatives in which Dhiraagu has demonstrated their stance in this area.
Dhiraagu currently provides free internet to the Kudakudhinge Hiya with parental control, while sponsoring the teachers at the orphanage. In addition to that, 2 computer labs and a library setup has also been opened at Kudakudhinge Hiya by Dhiraagu.
Furthermore, an online child safety programme was conducted in early 2015 in collaboration with ARC and an indoor play area was opened at Autism Association, during December 2015, 100,000 MVR worth development resources were donated to S.Hithadhoo Al-Noor Centre as well.
Dhiraagu Special Sports festival is also a key initiative of Dhiraagu, an annual sports events specially for children with disabilities.